Kayak Yarra River Melbourne
Melbourne from a different angle
This fun day tour allows you to travel along Melbourne's Yarra River through Southbank to the Westgate Bridge and Docklands. You'll get a different view of the city's skyline and retail precincts as well as information from your tour guide about the construction of some of the city's famous landmarks.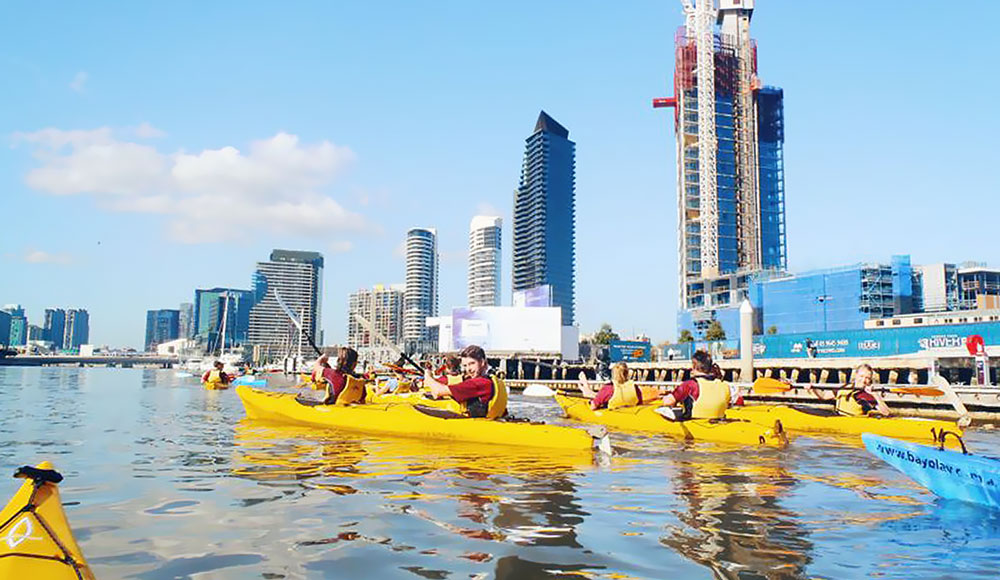 Tour Details
You will be briefed by your friendly and highly experienced guide on the day's tour. The briefing will cover terminology, equipment use, skills and safety procedures.
Your tour will run down river past Southbank's thriving restaurant business as you paddle in the looming reflections of the CBD's skyscrapers, you will then travel to the Westgate Bridge and gain an appreciation of just how much effort went into one of Melbourne's most crucial mega structures before stopping off for refreshments at Docklands. This fun filled adventure is the perfect way of seeing the city a little differently!
Tours require a minimum of 6 people.
The Tour at a Glance
Tours require a minimum of 6 people.
Location: Melbourne, VIC

Kayak Self Guided Experience
from $55pp
Double Kayak Hire
from $55
Sea Kayaking Skills Session
from $195
Private Group Kayak Tour of the Dolphin Sanctuary
from $660 (6 people min)
What's your next adventure?
Bayplay is an award-winning business, based on the Mornington Peninsula. We offer water based and land adventures plus accommodation.